There's an old saying that claims you never get a second chance at a first impression—and this sentiment holds true for your home's curb appeal. Whether you're getting ready to sell or just hoping to be the most beautiful house on the block, your home value will benefit from a refreshed exterior.

While there are plenty of big ways to upgrade, there are just as many simple improvements to give your home an instant boost. No matter the size of the project, remember: it's all in the details.


1. Make a grand entrance
The biggest curbside focal point for any house is the front door, which makes it the first item on many homeowners' to-do lists. A fresh coat of paint is a simple way to bring style to the exterior of your home. Bold colors (even on traditional houses) are a popular choice. Benjamin Moore has a helpful guide for how to pick the best front door color, as well as tips and tricks for picking the exact shade. Switching out the door's hardware or adding an ornate door knocker can also play up the passageway into your home.
2. Redo your walkway
If your front door is the destination, then your home's front walkway is the arrow directing your guests in. There are many options for how to spruce up this well-traveled path, depending on the level of effort you want to put in.

For a larger redo, switching your cement walkway out for gravel with walkway stones gives a sleek, modern look. Cobblestone or brick offers your home a more classic feel. Consider what goes best with your exterior design in terms of style and color.

For a smaller project, planting flowers along the edge of your walkway adds beauty and depth to your front lawn. Add a pop of color with California Asters or Sea Lavender. If you'd prefer ornamental grass, something like Blue Fescue is a hardy, low-maintenance option.
3. Spruce up your mailbox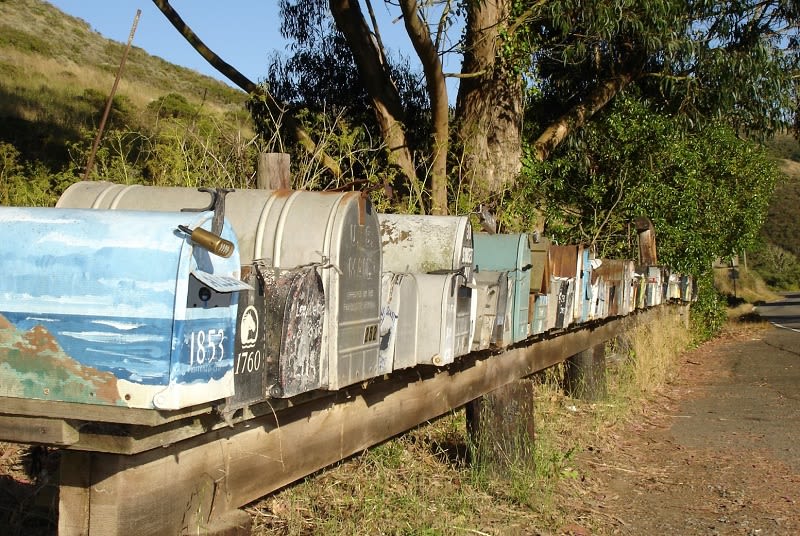 Your mailbox is not only a vital part of your home's functionality—it's also a prime, cost-effective opportunity to boost your curb appeal. Replace your standard mailbox with a locking column mailbox or an ornate post-mounted mailbox. Add your address by either installing letters or painting them on. If you have a mailbox you already love, refresh it with a bit of paint or plant a garden around it.
4. Add shutters
Once upon a time, shutters were a practical staple to keep the weather and nosey neighbors at bay. Beyond protection from bad weather, shutters add another layer of style to your house when tastefully colored and paired with your home's siding.
5. Add a coat of paint
Peeling paint and fading colors are an eyesore—but even if your walls are in good condition, you should still consider a fresh coat of paint. Creamy white and warm beige are currently in style for their ability to give houses a fresh, classic feel. Pops of color and contrast in your trim, doors, and windows work well to add curb appeal.
6. Refresh your garage door
Replacing your garage door can be a pricey and time-consuming upgrade. If it works well, there's no need to pay for a whole new system, but it's a great place to add a colorful contrast to your house.
7. Embrace greenery
Landscaping your front lawn can be as easy or as difficult as you want to make it. Although, putting in a little extra effort now can save you time and money in the long run. A trendy and environmentally savvy lawn redo is to create a wildflower meadow in your yard. Adding in hardy (and pollinator-friendly) grasses and flowers will save you on upkeep and make you feel good about your impact. Plus, they look gorgeous!

Planting trees or smaller flowering bushes along your property line can give you a sense of privacy without feeling fenced in. If you want to opt for something smaller, installing window boxes with flowers gives you a boost of color from both inside and out. If you have a front porch, styling your space with potted plants is an easy way to add greenery.
8. Outdoor living space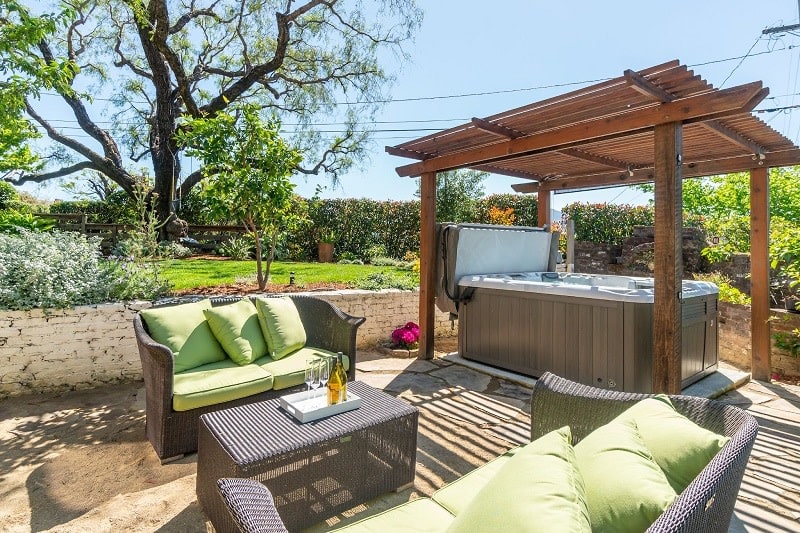 Speaking of front porches, your outdoor living space (or lack thereof) can hurt your curb appeal. Creating and keeping a clean outdoor seating area, either on your porch or on your front lawn, will give you valuable outdoor living space and heighten the charm of your home. Be careful not to overload your space with furniture or decor because it can quickly become cluttered.
9. Get lit
You can create an artfully lit oasis in your yard with a few simple tricks. Ensure all your landscape lighting is solar-powered. Add lights that shine down from your trees (known as moonlighting) or lights at the base of trees that shine up (known as up-lighting) to give a multi-dimensional feel to your landscaping. If you want something that feels classic and welcoming, install path lights along your front walk and put matching sconces on either side of your front door.
10. Upgrade your gutters
Gutters are often an overlooked way to improve your curb appeal and make your home more efficient. Vinyl and steel gutters are great options, but if you want them to double as a statement piece, copper gutters are both durable and eye-catching. Your gutters are an environmental technology for your home. You can install a rainwater collection system to benefit your lawn, plants, and ecosystem. Just be sure to keep your rain collection barrels out of sight.
11. Fence it in
Fences are always useful, and not just in a "stay-off-my-lawn" sort of way. While the traditional picket fences are a classic option (especially for historical homes), there are many other choices that may be more appropriate for your home. If you're looking for privacy, opt for a tall wooden fence with sleek panels; if you're looking for something to line your property and give it a decorative flair, consider a shorter latticework or brick fence. A horizontal wood-paneled fence brings a modern, sleek twist to the classic picket. You can add privacy, style, and curb appeal without cutting your home off from the neighborhood.
Boosting curb appeal to sell your home?
If you're looking to sell a house in San Rafael, Mill Valley, or anywhere in Marin, we can help make the process simple and enjoyable—and provide many additional suggestions for boosting your home's value. Contact us today for help selling your existing house and finding a new one to fit all your needs.