In the face of considerable challenges and constant unpredictability, 2021 was an excellent year for real estate in Marin. Even with the ongoing uncertainty of the COVID-19 pandemic and economic trends sending several mixed signals in other sectors, Bay Area home sales were incredibly robust throughout the year.


The activity was buoyed by a number of factors, including many homebuyers and sellers on the move. It carried over a trend from 2020 when the pandemic ignited home buying instead of diminishing it. This trend continued through much of 2021. National predictions anticipated this continuation of a seller's market, but not at the levels, the industry experienced. Calling Marin and the greater Bay Area housing market competitive over the past twelve months would be an understatement.


To buyers' relief, the high wire act of 2021 may finally have returned to earth. Home sales diminished over the last quarter of 2021, some of which were due to a return to predictable seasonality. However, several more market forces will impact Marin real estate for much of 2022, and there is good news to be had for both buyers and sellers. Nevertheless, it's important to remember certain expectations require resetting as the market heads toward a cool-down.


Let's look at what's in store for the Marin housing market and the 2022 real estate trends you should familiarize yourself with.
Changing needs
Just because buying is tapering doesn't mean the allure of Marin County is as well. Statistics reflecting a decrease in housing activity, both in supply (down roughly 50% year over year during Q4 2021) and overall single-family sales (down nearly 40% year over year during Q4 2021), could indicate a return to more normal seasonality.


It would be difficult to match the transaction period between October 2020 and March 2021, where interest rates were at their all-time historical low. With that note, don't expect the sale numbers to trend down for long, if at all.


Buyers will continue to closely follow the Marin market, with millennials playing a considerable role over the next five years. Looking to upgrade from their first or second homes or, in some cases, trying to acquire a second home, this generation will be the first sizable buyer pool to take advantage of the shift to remote work. Whether it's a fully remote schedule or a hybrid model, Marin is just close enough to allow the tech industry to live where they want while remaining within commuting distance of central business areas.


The good news for conventional buyers across all sectors is institutional investors seem to be steering clear of many California markets and, similar to other markets across the country, avoiding luxury homes altogether. While this could change farther down the line, it currently lessens the chance of competing against cash offers from bottomless pockets.
Low inventory persists
Housing supply is low in practically every major housing market across the county, and Marin County is currently facing similar circumstances. There is currently no significant influx of new listings or new construction, and neither is expected to make a dent when they hit the market, thanks to two important factors:


The first is how quickly new listings and construction go under contract. Some of this is attributed to the aggressive millennial buyer, while others have grown wise in approaching the high-demand market by wasting no time identifying a home they want and getting cash in front of the seller.


The other concern is increasing land and material cost in addition to the sporadic availability of said materials. Developers are taking less risk and holding back on new builds, while those pushing ahead take much longer than usual to finish construction on a home.


Since demand isn't abandoning the market anytime, soon home prices will stay elevated. The silver lining is they probably won't reach the levels of last year unless another buying frenzy grips the market or if the Fed reverses course and suddenly drops interest rates.
Higher interest rates
Increasing mortgage rates are probably here to stay for the foreseeable future, effectively ending what drove the housing market for the past year and a half. At the end of 2020, one could secure a 30-year mortgage loan for rates as low as 2.5%. The generosity was akin to tossing worry-free money into an already volatile market. Those who opted not to buy refinanced instead, and in some cases, refinanced two and three times over eighteen months.


Now, as the Federal Reserve seeks to curb inflation and kick start economic recovery, they've stated their intentions to raise rates throughout 2022 — multiple times if necessary. Though this news isn't welcomed, rate hikes shouldn't significantly impact upcoming transactions.


As of this writing, current mortgage rates for California are 3.47% for a 30-year fixed-rate loan and 2.71% for a 15-year fixed-rate loan. Savvy loan shoppers could even secure a lower rate — predictions believe those rates will move even more over the year.


Additional increases will be measured, and experts believe rates will finish the year somewhere between 3.5% and 3.75%. Higher estimates consider 4% as the ceiling for 2022, effectively placing the rates back to their pre-pandemic position at the end of 2019.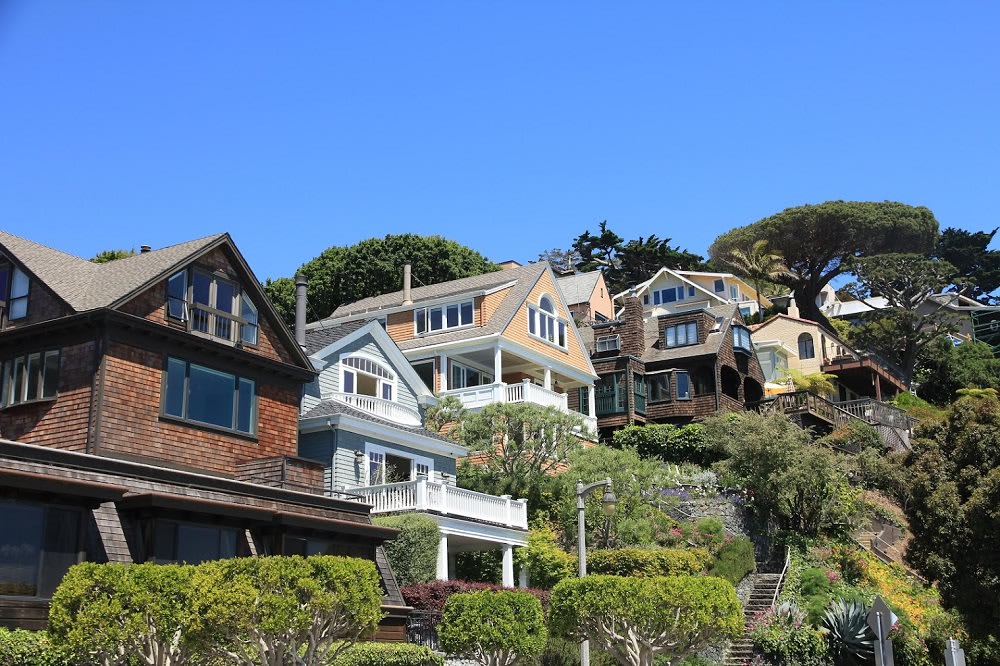 Sellers remain in control, but buyers have options
As the trends suggest, buyers looking to acquire property in Marin face conditions similar to 2021. Perhaps not as volatile, but with low inventory and plenty of competition, flexibility will prove key to getting an offer accepted on a home you want in a location you love.


Thankfully, Marin offers buyers several unique options to consider in their home search. If you find yourself frustrated with competing bids and prices beyond your comfort zone, it might be time to exercise some of these.


First, consider expanding your search radius. Marin's housing market features an abundance of luxury. From hillside mansions with panoramic views to bayside cottages steps from the water, evaluate what you're seeking in a new home and whether you can adjust your wish list.


Make similar assessments for your Marin city of choice. San Rafael is Marin County's urban center, yet it maintains a relaxed atmosphere, similar to several nearby bayside communities. If you're more than satisfied with living in a denser area, you could find less competition and a more fitting home in San Rafael.


Marin has several extraordinary homes needing a proactive owner, creative designer, and a bit of elbow grease — if you don't mind a renovation project. You can often score these properties at a discount with an "as is" purchase with an additional bonus – you have the opportunity to increase the property value significantly! With the right upgrades, you'll enjoy a healthy ROI should the time ever come to sell.


Even with the housing market transitioning from unpredictable to slightly more stable, the principles which helped many would-be buyers and sellers through the last eighteen months remain the same today.
Patience is key
Understand what you want from your new home or what you hope to gain from your sale. Determine your compromise positions ahead of time to eliminate surprises, and this will also ensure you can make quick, sound decisions without regretting them later.


On that note, don't commit to uncomfortable decisions. Many luxury home buyers found themselves stuck with an unwanted and unloved property early on in the pandemic. Don't make the same mistakes; the Marin real estate market is nothing if not dynamic. Focus on your specific wants and be willing to adjust your game plan as conditions evolve; there most certainly is a home for you in Marin County!


Navigating such a fluid and unpredictable market requires a team you can trust. Whether you're seeking new property in one of California's premier locations or hoping to capitalize on a favorable seller's market,
contact Marks Realty Group today
. Jonathan and his team will employ their years of experience, knowledge, and expertise to ensure you discover the ideal San Rafael or Mill Valley luxury home or find the perfect buyer for your Marin property.