Your Primary Bathroom is a functional space to help prepare and relax you for the world outside. A few luxurious bathroom upgrades can provide a daily dose of the relaxation and comfort you get from your favorite spa.
1. Switch your shower head
A rain shower head will bring an immediate, luxurious feeling to your bathroom with very little time or money spent. To further sweeten this upgrade, new rain shower heads are often incredibly efficient, which means you can enjoy your shower without bigger water bills.
2. Boost your bathtub
Not everyone wants to fully renovate their bathroom or put in a new bathtub, but there are a few options to upgrade your tub without doing any heavy lifting (or too much heavy spending).
Buy a bath tray to give yourself space to set your drink, face mask, book, or whatever else you like to take with you into the bath. If you have the space and don't want something balancing over the tub, a side table is another great option. If you're unhappy with the look of your tub, consider installing an airstone facade to make you feel like you're soaking in the outdoors.
3. Finesse your fixtures
Your showerhead isn't the only thing you can upgrade in your bathroom. The handles on your toilet, sink, and bathtub are a great place to start and can be done quickly and affordably.
4. Change colors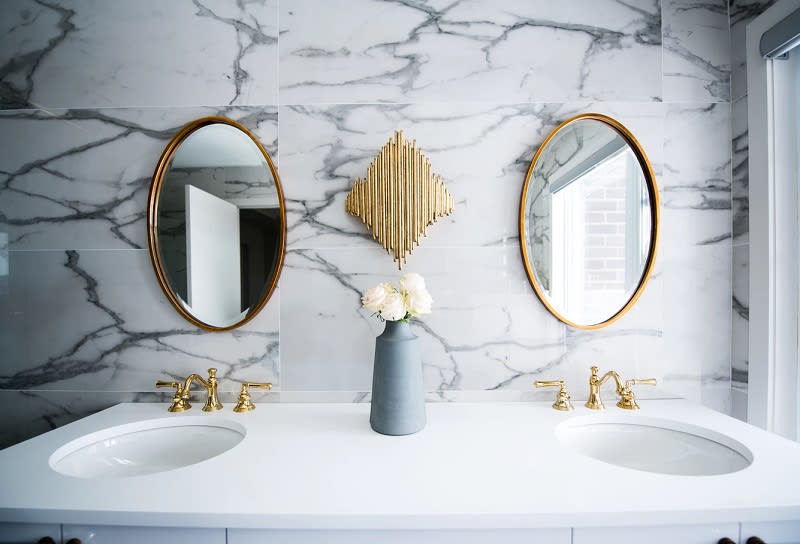 A coat of paint on your bathroom walls is an easy weekend project to transform your space. Shades of blue, green, and gray are popular with spas for the neutral, calming effect they offer small spaces. If you don't want to paint, wallpaper is back in a big way. Modern wallpaper ranges from rich, bold patterns (like these from Jungalow) to soft, minimal prints (like from Olive and Poppy), and many wallpapers are adhesive instead of glue, making them easy to remove later.
5. Add art
Imagine having your favorite piece of art in the bathroom where you can gaze at it while brushing your teeth or soaking in the tub. If you don't have a favorite piece of art, consider these Half Moon Framed Prints from West Elm.
6. Sneak your storage
Clutter seriously hinders serenity. With a few creative additions, you can say goodbye to crowded counters and hello to soothing spa vibes. If you have the floor space, add a linen closet with space to keep things out of sight or glass paneling to show off your towels. Another easy spa storage upgrade is to get a set of glass containers to store cotton balls, a salt scrub, or anything you need within easy reach while keeping your countertops organized.
7. Freshen floors
Feet are your foundation, so don't neglect their spot in your bathroom. Adding a rug (such as this Ambra bath rug) can change the whole feel of your bathroom—just make sure to get a non-slip backing to prevent shifting and accidents. Give yourself a foot massage with a river rock bath mat, or try a teak mat (like this one from Rejuvenation) that adds a touch of nature, dries fast, and feels great under your toes.
8. Love your lighting
Lighting has the potential to dramatically shift the mood of the space. Overhead, high-lumen lighting evokes a much different feel than the soft glow of a candle. For this reason, picking your bathroom lighting is of utmost importance if you want to recreate a spa atmosphere. Your private spa needs to have the option of being bright (for applying makeup, shaving, etc.) and also being gentle enough to relax in. Regardless of the fixtures you choose, installing dimmers on your lighting will give you the versatility to go from that spa atmosphere to lighting bright enough to get ready. 
9. Get gadgets
Technology can take the sensory experience of your private spa to the next level. You can enjoy relaxing music or ambient noise with a waterproof shower speaker or with a surround sound exhaust fan featuring color-changing lights. Keenray towel warmer will recreate the luxury of a spa treatment at home, and a bidet (like the Tushy) will keep you feeling fresh every day.
10. Pick out plants
Even if you're not a green thumb (or don't want to think about caring for them), there are plenty of low-maintenance plants that will thrive in your bathroom without much effort. If your bathroom has large windows, an aloe plant is a great choice and has the additional benefit of being able to soothe your skin when applied topically. A snake plant or a hanging pot of English Ivy both do well in humid environments with indirect, natural light, as do bamboo or a heartleaf philodendron.
11. Treat yourself to towels
Large, fluffy towels are a spa staple—and if you choose to upgrade your bathroom with a towel warmer—you should also consider these Ultra-Soft Turkish Towels or these Hydrocotton Quick-Dry Towels. Go the extra step and wrap yourself in a decadent robe like this shawl collar bathrobe from H by Frette.
12. Spa scents
Your home spa should engage your sense of smell in the best way possible. Hang fresh eucalyptus in the corner of your shower to give yourself a cleansing boost. If you want something you don't have to go to the farmer's market for every week, try an essential oil diffuser or a local California candle from PF Candle Co.
Looking for a spa-ready Primary Bathroom?
If you're in the market for a pre-built home spa, contact us for help finding the perfect oasis-worthy master bathroom. In San Rafael and beyond, we'll make the new home buying process so easy you'll think you're enjoying a day at the spa.