Few things beat the thrill of a good hike. From the panoramic views of vast wilderness to picturesque mountains, lush forests, and the occasional elk, nature's got a lot to offer. That's why it's always wonderful to realize these gifts are often not even far from home.

Located in the North Bay region of the San Francisco Bay Area, flecked with glimmering hills and tall palm trees, San Rafael enjoys proximity to exciting nightlife and many safe, beautiful trailheads located at its fringes. Whether you want a quiet walk for your alone time or a trail packed with locals and new friends, grab your hiking boots and vacation bag and hit the trails!

Here's a list of eleven great choices for hiking near San Rafael:


Terra Linda Sleepy Hollow Ridge

Credit: Marin County Parks

If you're an early morning riser, this trail is for you. Kid-friendly, great for mountain biking, and promising a paradise-like field of wildflowers once you trek deep, this 6-mile hiking trail is popular and heavily trafficked both out and back. Located a mere 12 minutes from San Rafael, Terra Linda Trail offers hikers a good look at butterflies and golden-eyed eagles.

Prep yourself for a trail run, quick hike, or adrenaline-inducing ride down a steep trail. Don't forget to bring your water bottle!
China Camp State Park
A hikers' favorite, a whopping sixteen trails run through this memorable park tucked in San Pablo Bay. The China Camp State Park offers hikers breathtaking waterfront views and tons of wildlife, from turkeys to deer, and fields of wildflowers, lizards, and birds. China Camp grants access to a lot of trail activities like horse riding and biking. It's also not uncommon to see people fishing along the coast and off the pier of McNears Beach.

This gorgeous park is home to trails ranging from moderate to easy, many of them kid-friendly. These include the China Camp State Park Loop, Bay View Trail, Shoreline Trail Loop, the notoriously narrow Peacock Gap Trail, Turtleback Point Loop, 14-kilometer San Pedro Peninsula Shoreline Trail, and many others.
Horne Trail
A scenic trail tucked away in Lucas Valley-Marinwood, the main Horne Trail follows Blackstone Creek up a canyon. Shaded by oaks and flecked with small waterfalls along the way, Horne Trail plunges you into nature's arms with the melodious chirp of birds overhead and splish splash of water slapping against rocks.

It may be a little steep in some areas, but once you keep at it, you'll be embraced by sweeping views of Mount Diablo and San Francisco — more than enough compensation for your hard work! Don't miss the scent of the beautiful blossoms along the way or the famous tiny meadow with bright yellow buttercups swaying gently in the afternoon breeze.
Marinwood Open Space
Home to three popular trails — Blackstone Canyon Trail, Queenstone Fire Road, and Valleystone — Marinwood Open Space is beloved by hikers, runners, bikers, and campers who love a challenging adventure because the trails here are steep!

With waterfalls and killer views of Mount Tamalpais, Mount Burdell, and the Bay waters from Napa to Richmond-San Rafael bridge, Marinwood is home to some of the most challenging trails in the area. You'll encounter loads of wildflowers on this trail, as well as madrone trees and shady oaks.
Bay Area Ridge Trail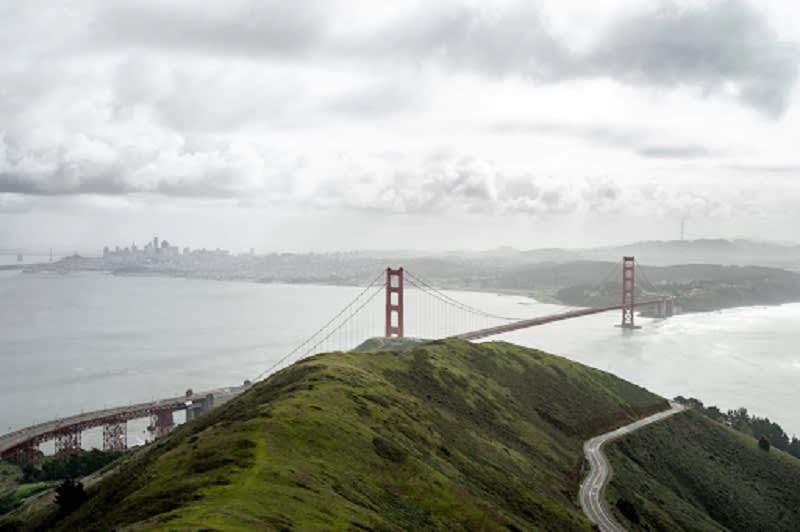 Open for biking, running, horseback riding, and hiking, the Bay Area Ridge Trail is home to a wealth of trails ranging from easy to moderate to difficult. Circling the Bay Area with 390 miles, the ridge trail invites the hiker in you, your biker friends, and horse-riding neighbors to promising trail adventures that hold the key to magical memories. You can try the famous Mission Peak Hike via the Bay Area Ridge Trail, a difficult one-way trail to the Sunol Regional Wilderness with an estimated 1 hour and 23-minute trek.

Some popular trails include White Hill/Loma Alta Open Space to Lucas Valley Open Space, Skyline Wilderness Park, Napa Solano Ridge Trail, Mount Tamalpais State Park, and Dias Ridge Trail.
Wood Oaks Trail
Wood Oaks Trail is a 6.4-kilometer, lightly trafficked loop trail rated moderate as far as difficulty goes. People mainly hike and run here, so get ready for an exciting trek featuring lush green forests and stunning wildlife.

From fire roads to single-track bike trails and the many butterflies, lizards, and wildflower-speckled paths, this trail is one of the best places to catch a tranquil, meditative moment as you hike on your own, far from city noise and distracting chatter.
Big Rock Ridge Trail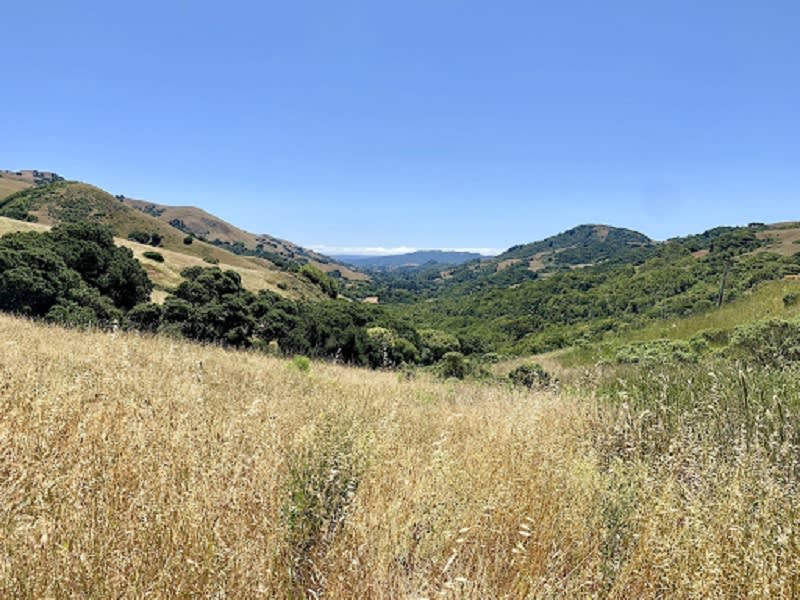 Credit: AllTrails.com

Another heavily trafficked trail, Big Rock Ridge Trail allows for an exciting exploration of the Lucas Valley Open Space Preserve. Fluctuating between easy and moderate, if you're not into strenuous hikes, the first 2 miles of the trail would be perfect for a journey's end and a return hike back down. But do go on ahead for the harder, more exciting part.

Orange blooms dot the trail in spring, while tiny lizards' scales glisten in the sunlight. There's a great view at the top if you're willing to venture beyond the easy part!
Dawn Falls Trailhead
For your next hiking adventure through the redwoods, start at this trail. Ideal for bikers, hikers, and trail runners, Dawn Falls is a well-maintained, moderately-trafficked hiking trail about 15 minutes from San Rafael.

If you're out for an easy hike, this might not be the trail for you. Not with its steep, sometimes slippery sections that only hikers seeking challenging treks can manage. This trail is perfectly shaded by beautiful trees housing lots of birds. The consistent chirping is truly music for the soul.
Tucker Cutoff Trail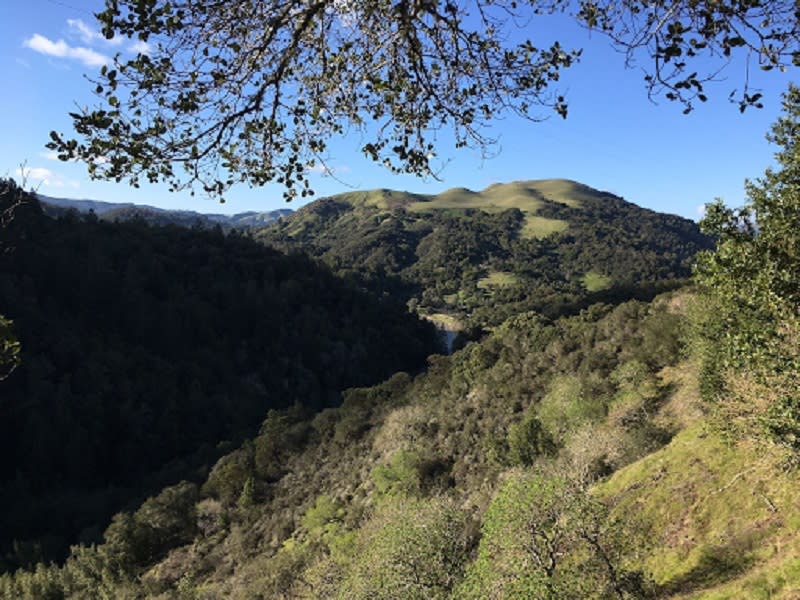 Credit: AllTrails.com

Another serene, lightly-trafficked trail for your precious alone time, the Tucker Cutoff Trail is a great adventure for nature lovers who will fall in love with the waterfalls and gurgling creek, bright green moss, and beautiful trees. This is the perfect haven for meditation.

Listen to the birds out here and look at the pretty flowers of different colors. The trail itself can be navigated easily, straightforwardly, and single-tracked. Come and spend time alone here when you feel the stress of the week is getting to you. You'll return home teeming with reinvigorated energy.
Dipsea Trail
15.6 kilometers and heavily trafficked out and back, this trail is dotted with an array of wildflowers and rated "hard," so be prepared for a challenge! The Dipsea Trail (also called "the Ben Johnson Trail") winds through Muir Woods National Monument to Stinson Beach. This is where you should stop if you're looking for a hike through the northern California redwoods.

Deeper into the trail, stunning views of the Pacific Ocean await you. And FYI: the world's oldest trail running race, The Double Dipsea, takes place here!

There are tons of steps to guide you through the first mile of the route. However, the difficulty level begins to rise as the trail winds through a sprawling forest. You will revel in the gorgeous views in front and around you and the cool atmosphere as you traverse the woodlands. Don't forget to pack water and some snacks — you're about to go on an epic adventure from land to sea!
Temelpa Trail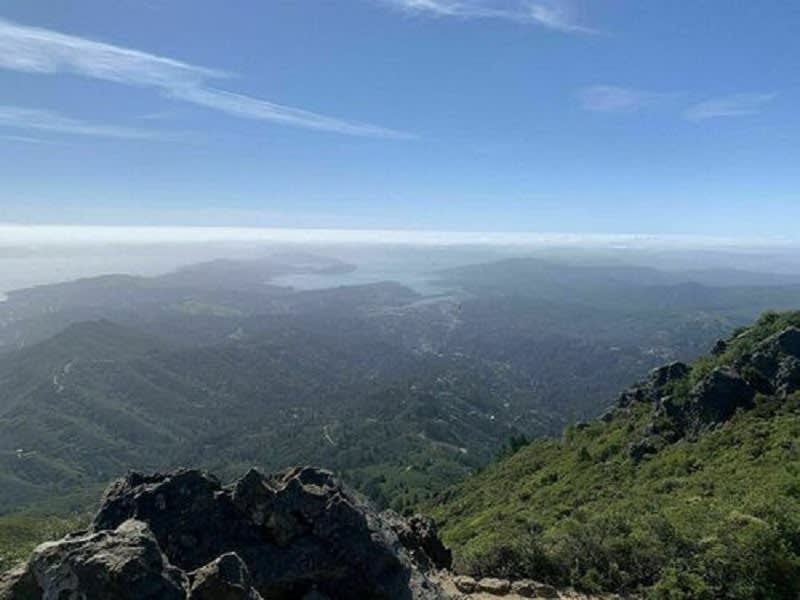 Credit: AllTrails.com

Meander uphill on this steep 7.1-kilometer trail with huge rocks and beautiful wildflowers. This trail runs from Summit Ave to East Peak and can be pretty difficult to climb at first if you are not an experienced hiker.

The trail is excellent for workouts and is peacefully quiet. Hike to the top of Temelpa Trail for an incredible view of the surrounding landscape. You'll always catch sweeping views of San Francisco as you navigate the rolling hills. This might even be the straightest hike to the top of Mount Tamalpais you'll ever do.

There's nothing nearly as extraordinary as reconnecting with nature. From the rustle of leaves in the breeze to deers strolling through the wilderness, their antlers glorious in the midday sun, to the crash of water against rocks, these experiences are what make hiking even more exciting. Take on one or more of these trails near the beautiful city of San Rafael and enjoy the peaceful feeling of a finally relaxed body.
Are you eager to explore San Rafael real estate? Contact Marks Realty Group today. As leading real estate agents in Mill Valley & San Rafael, CA, Jonathan Marks and his team can help you find the property that's perfect for you.