Thanks to several national parks, numerous hiking opportunities, and a great location, Marin is a popular place to call home. For those looking for a small-town environment while still living in a big city, moving to Marin may be what you're looking for! The European feel of Mill Valley houses perfectly complements the bustle surrounding San Rafael homes. Along with Belvedere, Tiburon, Fairfax, and Larkspur, these towns create the perfect real estate within Marin County, California. Here are five reasons to consider when moving to Marin.
Access to the great outdoors
Activities like hiking and biking are prevalent in Marin due to the stunning scenery and preserved open space. The county is dotted with many national, state, county, and local parks and provides a wealth of opportunities for hiking, dog walking, and basking in the surrounding nature.
The
Tennessee Valley Hike
is one of the most popular hiking trails in the San Francisco Bay area. This trail is an excellent activity for the whole family and can also suit more adventurous hikers with the trails leading into the hills over Tennessee Valley.
Marin is also home to the
Golden Gate National Recreation Area
, over 80,000 acres of environmentally and historically significant places in Marin. These areas include attractions like Muir Woods National Monument, the Marin Headlands, Stinson Beach, and Fort Baker. Furthermore, if you're a fan of unparalleled flowers and clean beaches,
Pt. Reyes Seashore
is a must.
A scenic commute
Marin offers Ferry transit to and from San Francisco. Unfortunately, if you are in the market for Mill Valley houses, there is no ferry terminal in town. However, just a
short drive or bus ride
to the Larkspur or Sausalito terminals will have you ready to go! Additionally, those moving to one of the San Rafael townhomes can easily access San Francisco using the Larkspur Ferry. Using the ferry takes about
5 minutes longer
than driving, but the view is incredible. Leaving the car at home also reduces carbon emissions.
If you're not a fan of the ferry, there is also the SMART train. The train runs along a north/south corridor and ends at the Larkspur Ferry Terminal, connecting to the financial district.
Favorable weather
Marin is great for those who don't like things too hot or too cold. The
temperature is mild year-round
, with beautiful blue skies stretching over the calming ocean. The Mediterranean climate brings warm days and cool, crisp nights. During the summer, the fog from the ocean cools the high inland temperatures, creating beautiful 70-degree days.
Rain is typically intermittent during the winter season. Stunning blue skies follow a day or two of light rain. Beautiful temperatures throughout the year create a high demand for places to live, like Mill Valley or San Rafael. When you decide to move to a seaside location with a perfect, temperate environment, you will rarely experience a bad day going outdoors.
Proximity to wine country
The cool, coastal breezes accompanied by rich soil give Marin some of the
best family-owned wineries
and vineyards, which provide grapes to renowned vintners in Marin, Sonoma, and Napa County. Some of the more unique wineries in Marin include Heidrun Meadery and Trek Winery.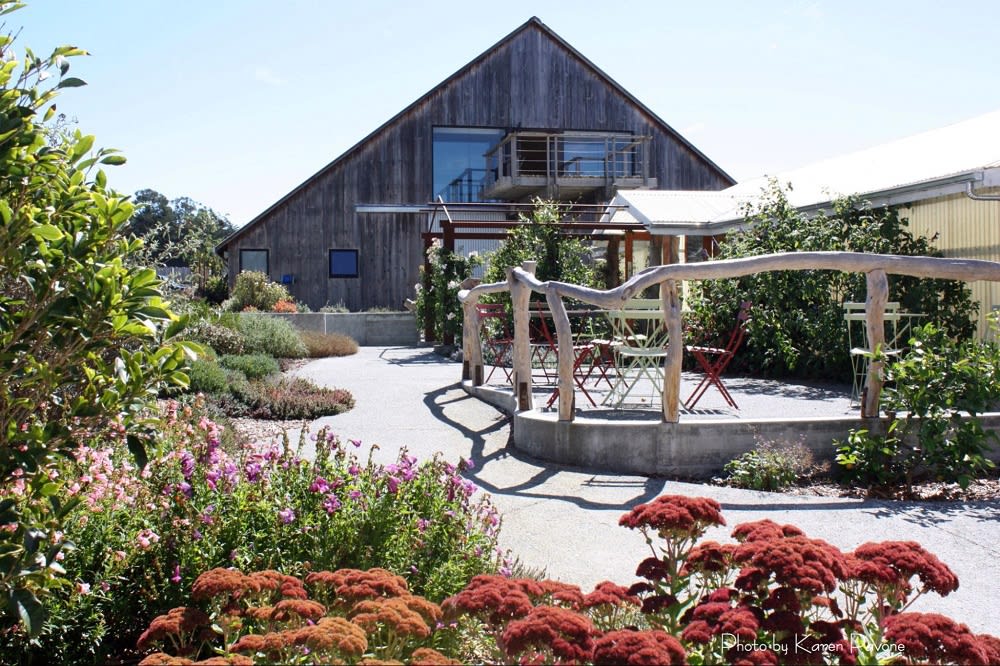 Photo courtesy of arministasfeast.com
Heidrun Meadery
produces naturally sparkling varietals. Their mead is known for its champagne style that is light, dry, and refreshing. Heidrun is located just across the Golden Gate Bridge and is rich in biodiversity. The meadery provides its bees with superior botanicals, which they harvest and convert into honey. If you decide to take a day trip to Heidrun Meadery, you can enjoy a property tour, flight tastings, or even a picnic in the garden.
Trek Winery is a family-owned venue that offers delicious wine and live entertainment. The winery has been open since 2007 and gives visitors an upbeat experience with live music and local comedians. In 2014, they received recognition as Best Local Winery from Marin's
Pacific Sun
newspaper.
Outstanding homes
Every community in Marin offers desirable, beautiful places to live. Many Mill Valley houses were built in the
early 1900s
. Although many of the cottages and cabins met their untimely destruction during a fire in 1929, downtown Marin was spared, and most of the original structures still stand. Today, an eclectic and vibrant mixture of retro and modern designed Mill Valley houses spread throughout the hillside. With the emphasis on mid-century homes plotted along traditional flat streets, almost no two Mill Valley houses are the same.
If you're interested in bustling city life but still want to stay outside of San Francisco, San Rafael homes are perfect for you. San Rafael is known for its
lively nightlife
and urban environment, making it a more desirable place to live for young adults. San Rafael homes are surrounded by beautiful scenery and opportunities for outdoor activities. Expect to find large homes in prosperous neighborhoods in San Rafael, with the town filled with mid-century modern marvels.
Marin has attracted homebuyers for a variety of reasons — enjoy stunning scenery, incredible weather, stellar wine and entertainment, and gorgeous homes. If you're ready to move forward with your plans to move to Marin, contact the talented Marin realtors from
The Marks Realty Group
to guide you on your journey.