What Hollywood is to glamour, San Rafael is to food. It's a mecca of fine dining, ethnically diverse eats, and sleek, atmospheric restaurants. Residents of San Rafael delight in the city's eclectic and never-ending array of eateries that allow for scenic views of the mountain range or startlingly vibrant street activities as you settle for your lunch.

A spectacular suburb with classy neighborhoods and people, San Rafael's food options are certainly top-notch with an emphasis on good health. Many San Rafael restaurants offer veggie meals, pastries made from organic and locally sourced farm produce, fresh seafood and meat, and all the healthy things in-between. This is one of the factors that continually draws potential homebuyers to this North Bay city.

We have collected some of the best restaurants in the city that not only boast excellent food and reasonable prices but also put a premium on good customer treatment and atmosphere. Let's have a look at these ten eateries that are sure to satiate you once you work up an appetite.
Boiadeirus Steak
Boiadeirus Steak is not your average steakhouse but a destination to satisfy all your Brazilian BBQ cravings. reasonable

With skewered picanhas and nice waiters cruising past your table with swords of grilled meat served rodízio-style onto your plate, it's not hard to miss the traditional churrascaria vibe of this restaurant. Customers typically get ten or more servings of meat, all sizzling-hot and seasoned well — from flank steak to filet mignon, chicken hearts to drumsticks. A huge salad bar offers an assortment of choices, from mango salsa to salpicao, tomato vinaigrette to sauteed mushrooms, and roasted beets.

You even get a delicious offering of white rice, feijoada, sauteed collard greens, and so much more at this restaurant.  (Image Credit: Boiadeirus Steak)
Caribbean Spices
Do you long for a reminder of that last time you vacationed in the Caribbean? Well, this Haitian restaurant — an extension of chef Frantz Felix's food truck of the same name — brings those vibes to your San Rafael doorstep.

Select from a menu of Creole Jerk Chicken, plantains, and calypso prawns or savor the taste of a succulent curry goat, tender enough to slide off the bone. Every food here is cooked with a unique style, an innovative combination of African-American cooking styles with traditional Haitian kitchen methods to create exotic, finger-licking meals. Finish up with a lovely, chilled Island Lemonade or mango juice.
La Toscana Ristorante & Bar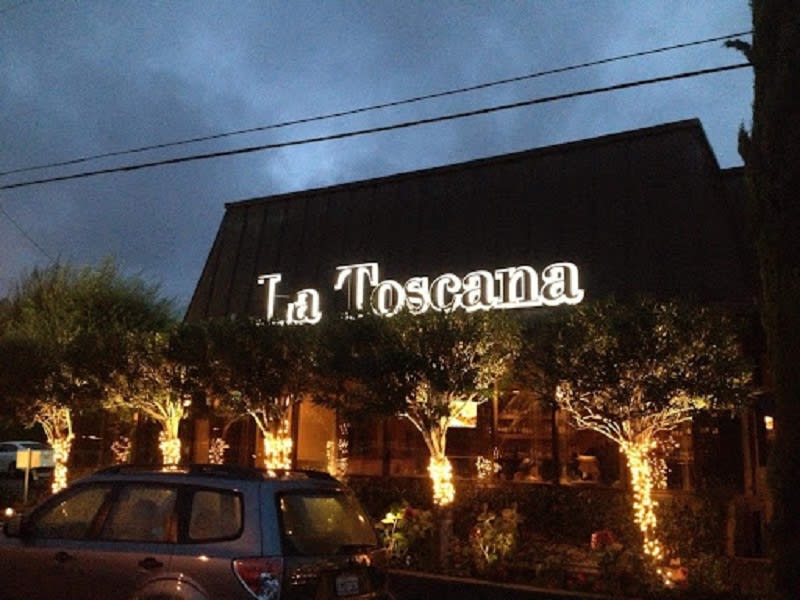 Family-owned and dedicated to serving authentic Italian fare in an exclusive atmosphere, this upscale restaurant is a favorite for San Rafael locals.

Offering both outdoor dining and takeout, La Toscana boasts a menu featuring everything from appetizing bruschetta to arancini and beef meatballs to Tuscan bean and kale soup and every classic Italian salad you can mention off the top of your head.

This restaurant serves organic spaghetti with Roman pecorino and cracked pepper while also offering specials like lasagna, lamb chops, and an assortment of cocktails. Sit in the bar area and enjoy a gelato or almond biscotti while you watch a game on the three large TV screens installed there.
Le Chalet Basque
This rustic, upscale restaurant with notes of the famed French and Spanish Basque cuisine offers indoor dining and scenic patio seating.

Treat yourself to an outdoor lunch of grilled prawns in garlic butter, escargots, or classic French onion soup. Or enjoy a delectable three-course entrée with your family, featuring everything from poached salmon garnished with capers and lemons to roasted chicken in Madeira mushroom sauce.

The kids can also enjoy poached salmon and rice or linguini with butter and sweet rice pudding or mango sorbet. And yes, there's something for the vegetarian members of the family, too!
Lotus Cuisine of India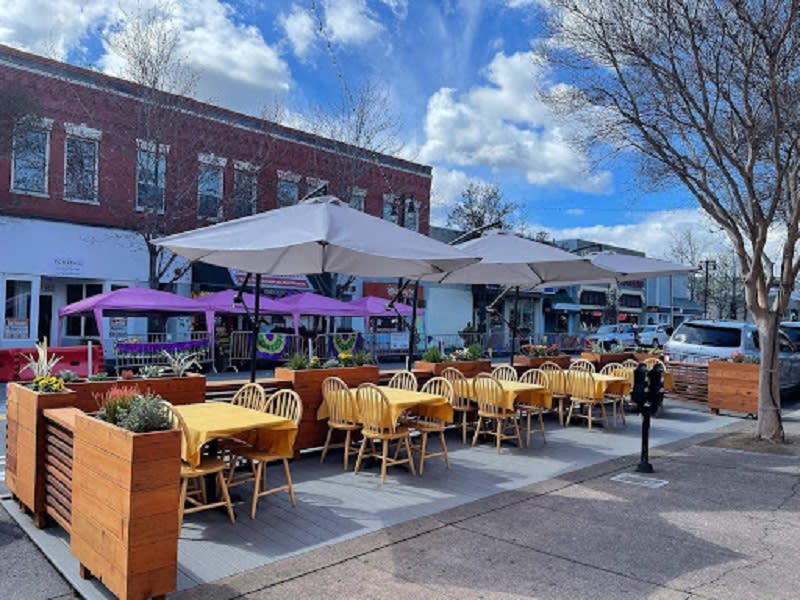 Credit: Lotus Cuisine of India

Namaste! If you desire a gluten-free or organic Indian dinner, this is the restaurant for you. Lotus Cuisine is a family-owned eatery that offers vegan and vegetarian options for all dishes. This restaurant prioritizes healthy, nutritious food prepared with love and served in a serene, calming atmosphere.

You get to select from a tantalizing menu of appetizers like lamb samosas and onion pakoras to lentil soups and all your favorite Indian breads. Their chicken and vegetarian curries are made with organic spices, non-GMO oil, organic coconut oil, and ghee.

Enjoy a finger-licking experience at this San Rafael local favorite, situated on Fourth Street and certified for its trusted organic menus. 
Panama Hotel Restaurant
You cannot talk about San Rafael's eclectic dining without a nod to the restaurant at Panama Hotel.

Perfectly set within the walls of San Rafael's historic hotel, this restaurant, with its vintage design and mouth-watering dishes inspired by the world's most prestigious wine locations, invites you to peruse a menu of everything from chicken tortilla soup to gourmet charcuterie platters and other options made with only the best-quality ingredients.

Grab a brunch mimosa alongside applewood smoked bacon or an English muffin. Your kids would enjoy the jack cheese quesadilla or creme brûiée. Or how about a lemon tart, Baja salad, or a lunch of grilled vegetable enchiladas verde to savor all on your own?
Sushi to Dai For
As the name suggests, the rolls and other extensive menu items offered at this sleek sushi house on Fourth Street are to die for.

In this stylish interior dining space with an incredibly cozy atmosphere, you'll be treated to the most fabulous sushi rolls and other Japanese fare, from crispy tempura to a whole course teriyaki chicken dish and spicy hamachi to dragon sushi. Finish up with a chill and refreshing bottle of sake, cider, or beer.
Yet Wah
This Chinese eatery serves classic cuisines complemented by a broad assortment of beer and wine for dine-in or takeout. Named after the founder's wife — Yet, meaning "moon" and Wah, "brightness" — the restaurant's etymology perfectly suits its impressive atmosphere. 

Settle in and select from a menu of shrimp rolls, foil-wrapped chicken, deep-fried ravioli, chicken wings, BBQ quail, chicken salad, fried oysters, cheese crab puffs, and a tempting range of others.

You should try slurping some tasty beef wonton soup or order a bowl of rice or even chicken with sweet corn soup. And you can't go wrong with the beef dishes either! From oyster sauce beef to asparagus beef with black bean sauce, you'll be longing for more even after you have your fill. Make sure to wait a little while to enjoy live music in the Kung Fu lounge.
McInnis Park Golf Club Restaurant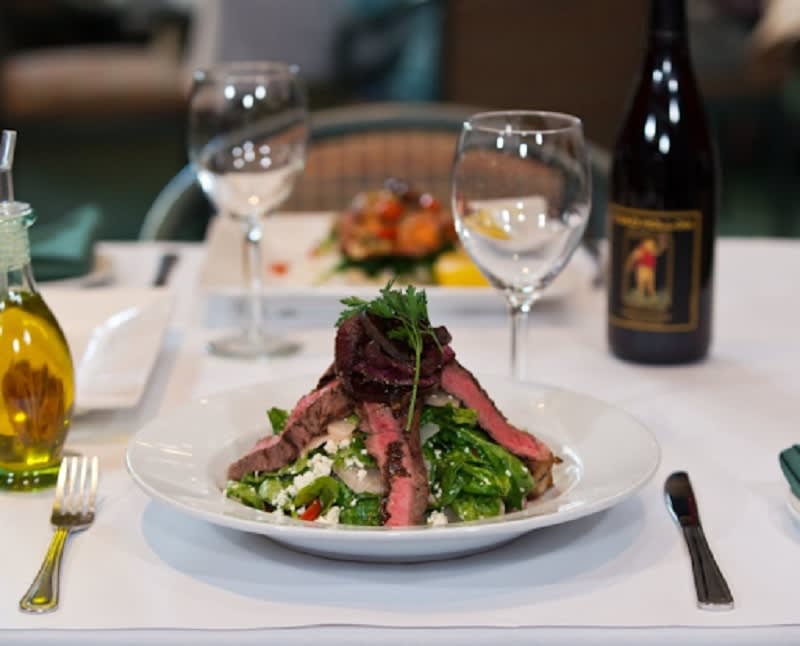 Credit: McInnis Park Golf Club Restaurant
Do you know what's great after hitting the driving range? Settling in for a refreshing meal in a scenic, atmospheric restaurant. That's just what the McInnis Park restaurant is — the place to catch your breath after a great evening of golf.

Grab a meal crafted by Chef Chris Harman's incredible recipes, from French dip sandwiches to chicken salads and full-plate pasta with sauce. Move to the beautiful patio seating outside to enjoy a lush view of the golf course and interact with other visitors.

During weekends, you can order a brunch, while on any day, you can stretch your legs at the bar with a premium assortment of scotches and wines from over 50 California vineyards at your fingertips.
LaVier Cuisine
Deluxe Latin fusion dining. Posh tropical decor. Organic, locally sourced ingredients.

This is the perfect Latin American restaurant born from the partnership of a Mexicana wife and a husband from Yucatán. Lavier effortlessly blends diverse cuisine styles from all around the continent to make their delicious appetizers, salads, and more. From Swiss chicken enchiladas, sautéed chicken, and pan-seared salmon entrees to vegetarian favorites like coconut tofu curry, huevos rancheros, veggie toston, and an assorted list of options from which to choose.

Order a popcorn chicken starter with your choice of jalapeño-ranch, sriracha aioli, or BBQ sauce or any of the top-selling artisan sandwiches. Or better yet, go for a more straightforward serving of shrimp ceviche paired with iced sangria. Nothing else could feel closer to a tropical vacation!   (Image Credit: LaVier Cuisine)
Are you excited to explore San Rafael real estate? Contact Marks Realty Group today. As leading real estate agents in Marin County, CA, Jonathan Marks and his team can help you find the property that's perfect for you.