The 2024 colors of the year are here, and we're already swooning for the stunning shades. Earthy, nature-inspired tones will be especially big, according to the color experts that release their predictions each fall. This year's trend forecast features earth tones like terra-cotta and moody forestcore-inspired picks that include a rich deep green. We're also seeing an influx of coastal-inspired blues, from light pastels to bold teals.
And while we still love the bold, expressive paint colors of 2023, we're already planning to incorporate this year's shades into our next renovation projects. These are all the 2024 colors of the year that have been announced so far. We expect many more to be released throughout the season, so check back for more color inspiration.
PHOTO: COURTESY OF BENJAMIN MOORE
Blue Nova by Benjamin Moore
Blue Nova by Benjamin Moore is a rich, grounded blue that works just as well on an accent piece as it does covering a color-drenched room. The color was chosen to represent the blend of modern and traditional styles that are popular in home interiors right now. "Blue Nova 825 is an alluring mid-tone that balances depth and intrigue with classic appeal and reassurance," Andrea Magno, color marketing and development director at Benjamin Moore, said in a press release.
For more inspiration, the brand has also released a 2024 color trends report with other colors that complement the mix of modern and traditional. Creamy gray, muted orange, pewter gray, deep green, and hazy purple are all featured.
PHOTO: COURTESY OF C2
Thermal by C2
C2's 2024 color of the year is Thermal, a mid-tone blue reminiscent of crisp fall skies and cozy winter scenes. "C2 Thermal reminds us of a vast blue sky and the infinite array of blue hues nature offers to help restore and redefine our mood," Philippa Radon, interior designer and paint color specialist for C2, said in a press release.
The color is bright yet calming, making it an excellent choice for large spaces. Use it throughout the kitchen for a relaxing hang-out spot, or color-drench your bedroom with the hue to create a soothing space. "This bespoke pale yet punchy blue is poised for adventure and brimming with hope, evoking feelings of loyalty, trust, and confidence," Radon says. "Its contradictory nature has the dual ability to uplift us and provide a sense of calm and tranquility."
To complement their color of the year, the paint experts at C2 created a 2024 color capsule that includes a soft, warm neutral and a moody, deep green. Radon says the brand wanted to provide color palette inspiration with hues frequently seen together in nature. "Color is never seen in isolation," Radon says. "Our annual capsule tells a story where our colors become the characters: the lead being Thermal, with Brulee and Marshland as support roles."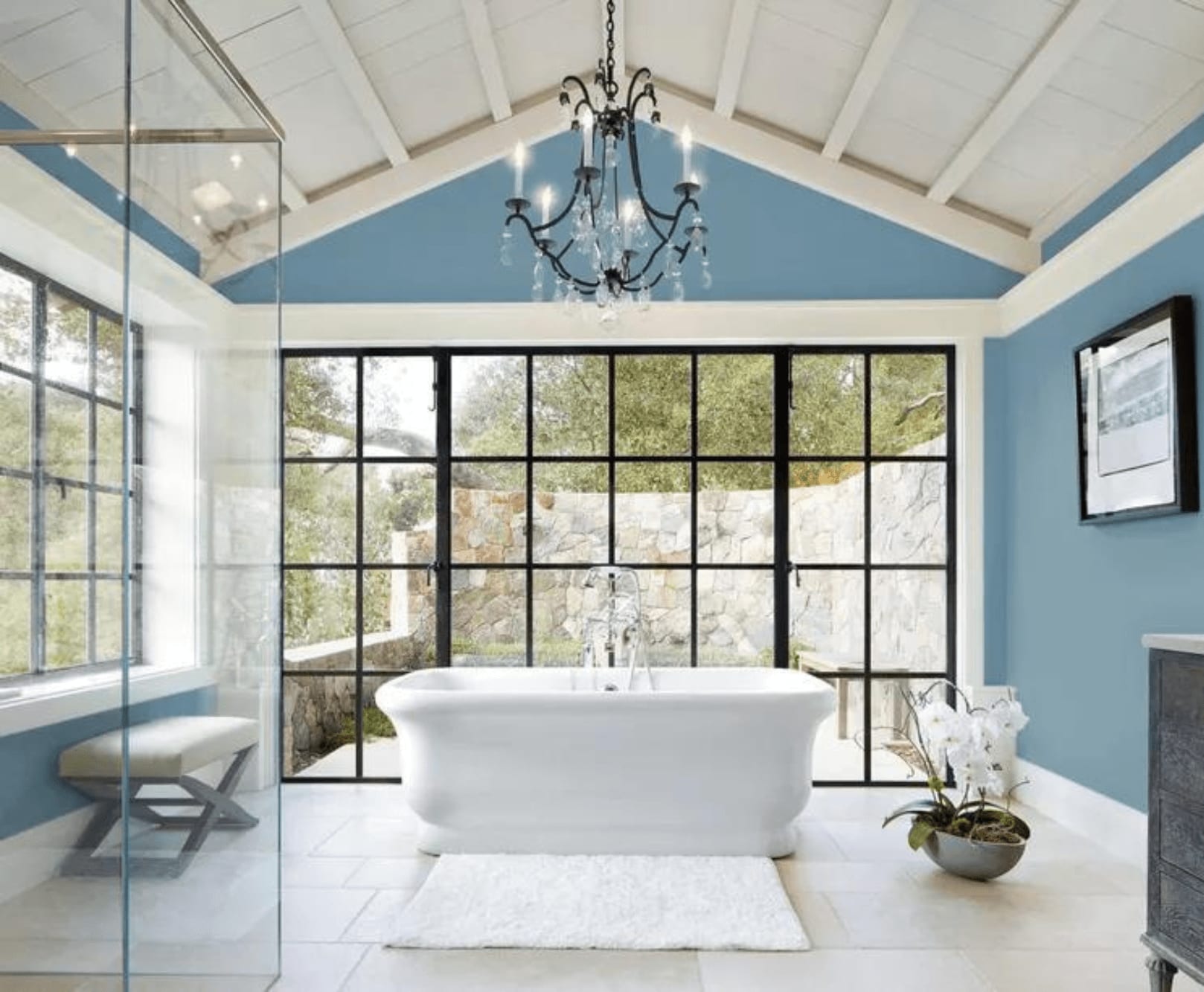 PHOTO: COURTESY OF DUNN-EDWARDS
Skipping Stones by Dunn-Edwards
Give any space a bright and invigorating update with Skipping Stones by Dunn-Edwards. The brand's color of the year is a cool, breezy blue that pairs well with warm whites, beiges, and natural elements. "Skipping Stones feels like a daydream and can add a sense of mystery and thoughtfulness to any space," DeMing Carpenter, color expert at Dunn Edwards, said in a press release. "It's part of the resurgence of blue and represents a shift away from the bold, warm-toned colors we've seen gain popularity over the past few years."
Whether you're painting an accent wall or updating your front door, rest assured this paint color will stand the test of time. "This blue is timeless and versatile, fresh and serene," Carpenter says.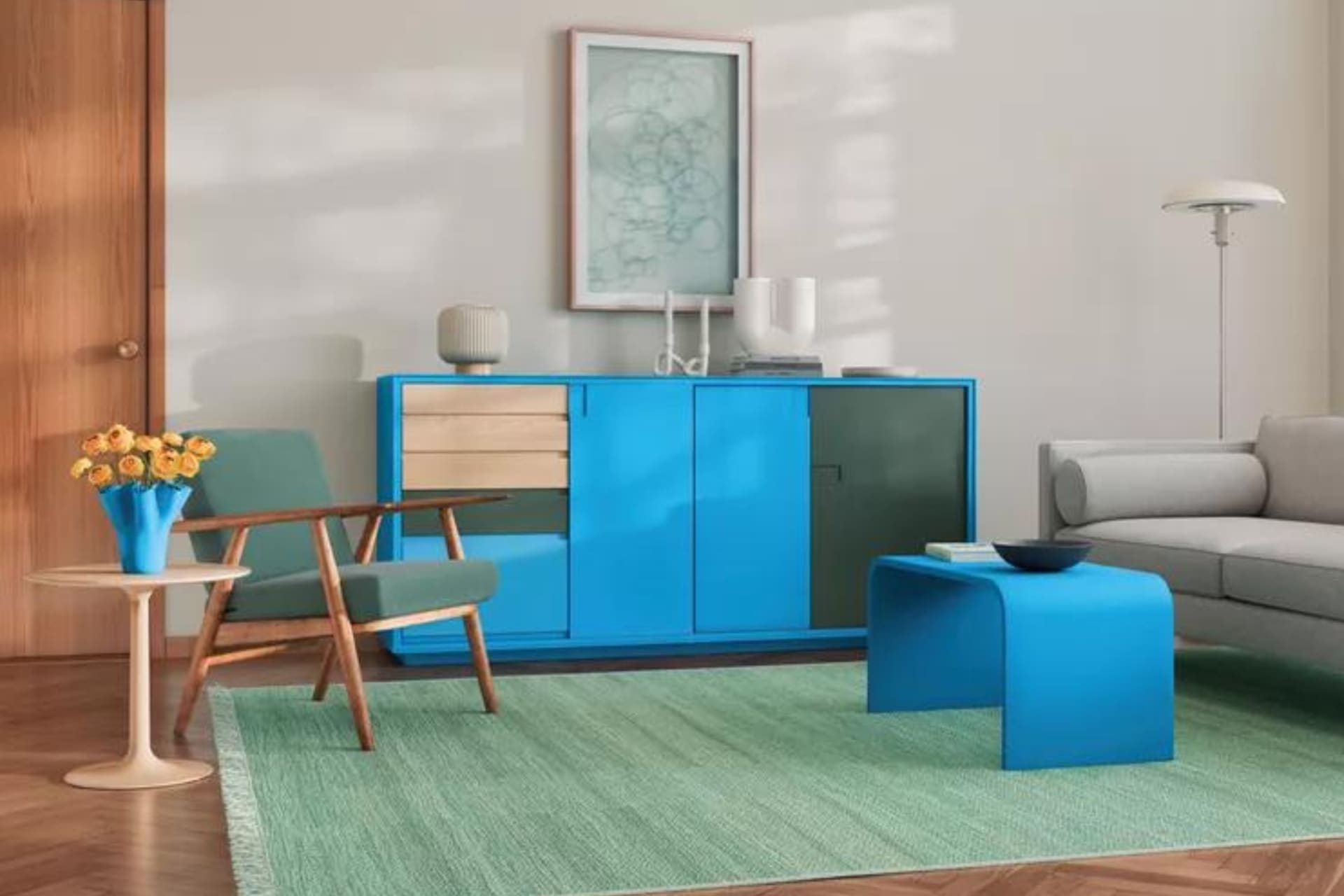 PHOTO: COURTESY OF KRYLON
Bluebird by Krylon
Krylon's selection for color of the year combines the popularity of pale, pastel hues with a bold, bright tone. Bluebird is designed to be an uplifting color that sparks joy in any area of the home, indoors or out. "Bluebird evokes joy and contentment within a space, embracing consumer desire for 'dopamine decor'," Ashley Banbury, Krylon's color marketing manager, said in a press release. "Bluebird is a welcoming color that harmonizes effortlessly with both warm and cool shades and facilitates a balance in pairing accent colors, vintage furnishings and modern elements."
"Its soft yet sophisticated tone pushes the boundaries of transformation that pale shades can achieve on a wide range of materials," Banbury says. Use it to give dated furniture pieces an instant facelift, or bring new life to outdoor accent pieces with a quick coat of paint. Wherever you use it, the bright but not-too-bold tone will instantly liven up your space.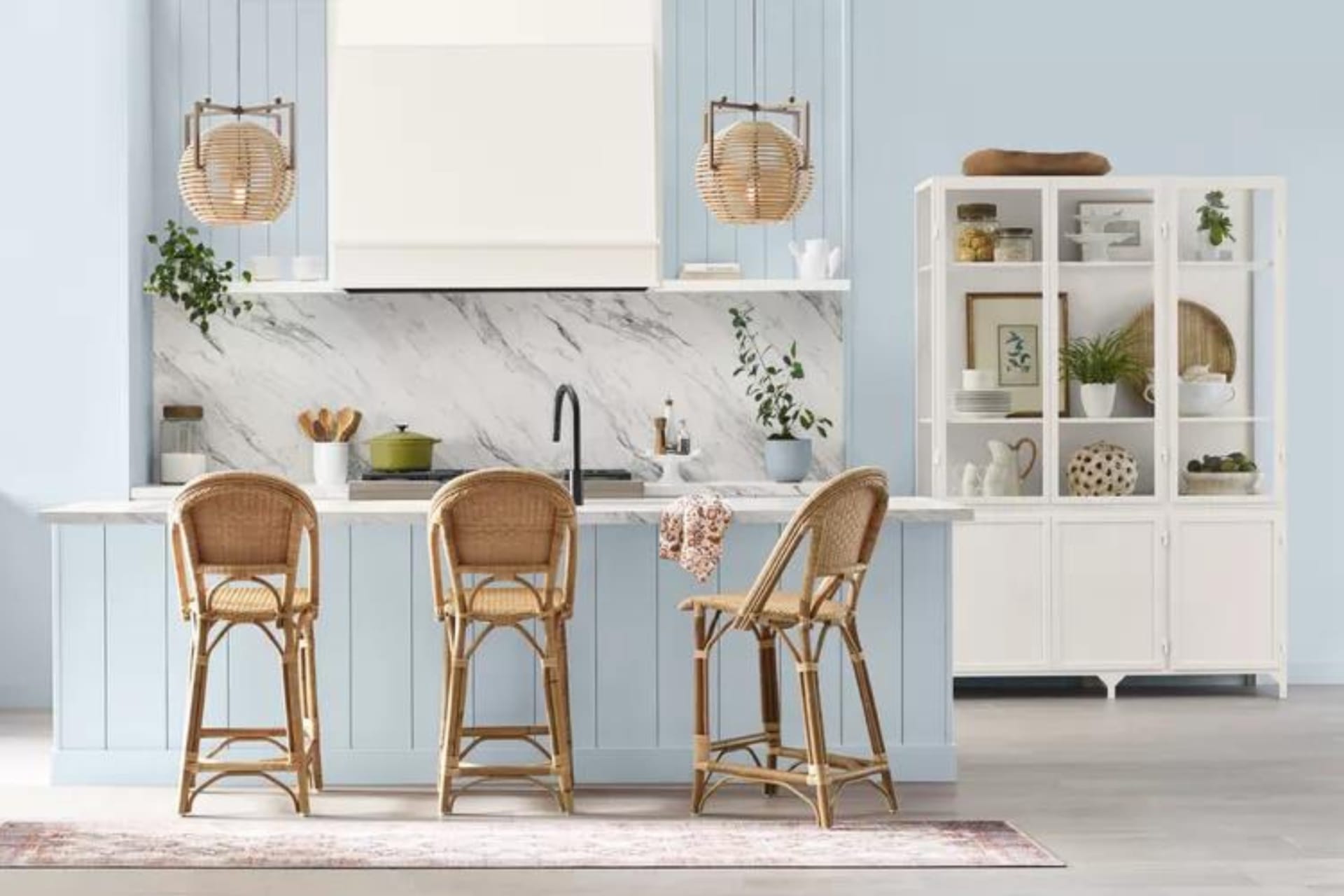 PHOTO: COURTESY OF SHERWIN-WILLIAMS
Upward by Sherwin-Williams
Sherwin-Williams' 2024 color of the year is a bright and breezy blue that was designed to infuse peacefulness into any space. "Upward SW 6239 represents the gentle forward momentum in all of our lives," says Sue Wadden, director of color marketing at Sherwin-Williams, in a press release. "It brings to life that carefree, sunny day energy that elicits a notion of contentment and peace. With this color, we invite our consumers to take a pause and infuse a new sense of ease and possibility into their spaces—one that doesn't overwhelm, but rather establishes meditation and tranquility."
Use this shade of blue as you would a neutral, painting walls or ceilings with the light blue, and accenting with light, earth-tone accents. Or use the cool hue on an accent wall to make wainscoting or wall paneling pop without overwhelming the space.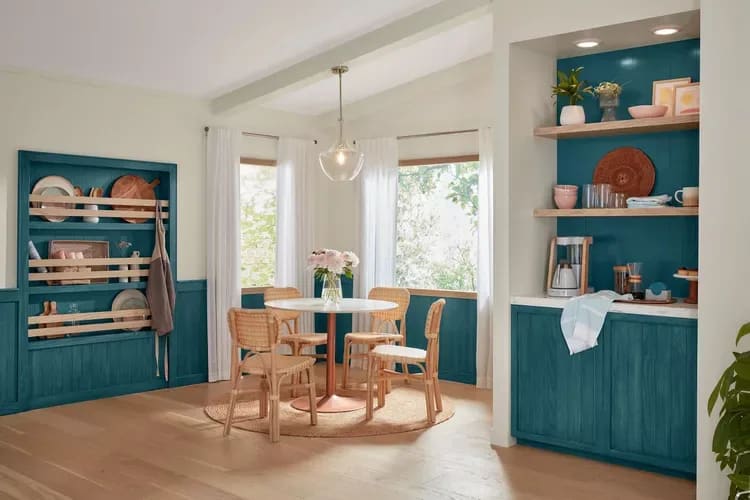 PHOTO: COURTESY OF MINWAX
Bay Blue by Minwax
Whether you're going for a breezy, coastal feel or more of a moody, sophisticated aesthetic, Minwax's Bay Blue stain does it all. Ocean-inspired shades have risen in popularity lately—a trend that's no doubt inspired by the coastal grandmother aesthetic that's sweeping home design right now.
"Bay Blue is at the intersection of contemporary and classic," said Sue Kim, director of color marketing for Minwax, in a press release. "This year's color is meant to ignite the creativity of DIYers to think of bold and rich color stain options when planning their next home project. With Bay Blue available in both solid and semi-transparent wood stain opacities, the possibility to create custom looks is easily within reach."
The versatile stain color looks at home on any wood surface in your home, from a breezy, coastal-inspired deck to built-in bookshelves in your home library.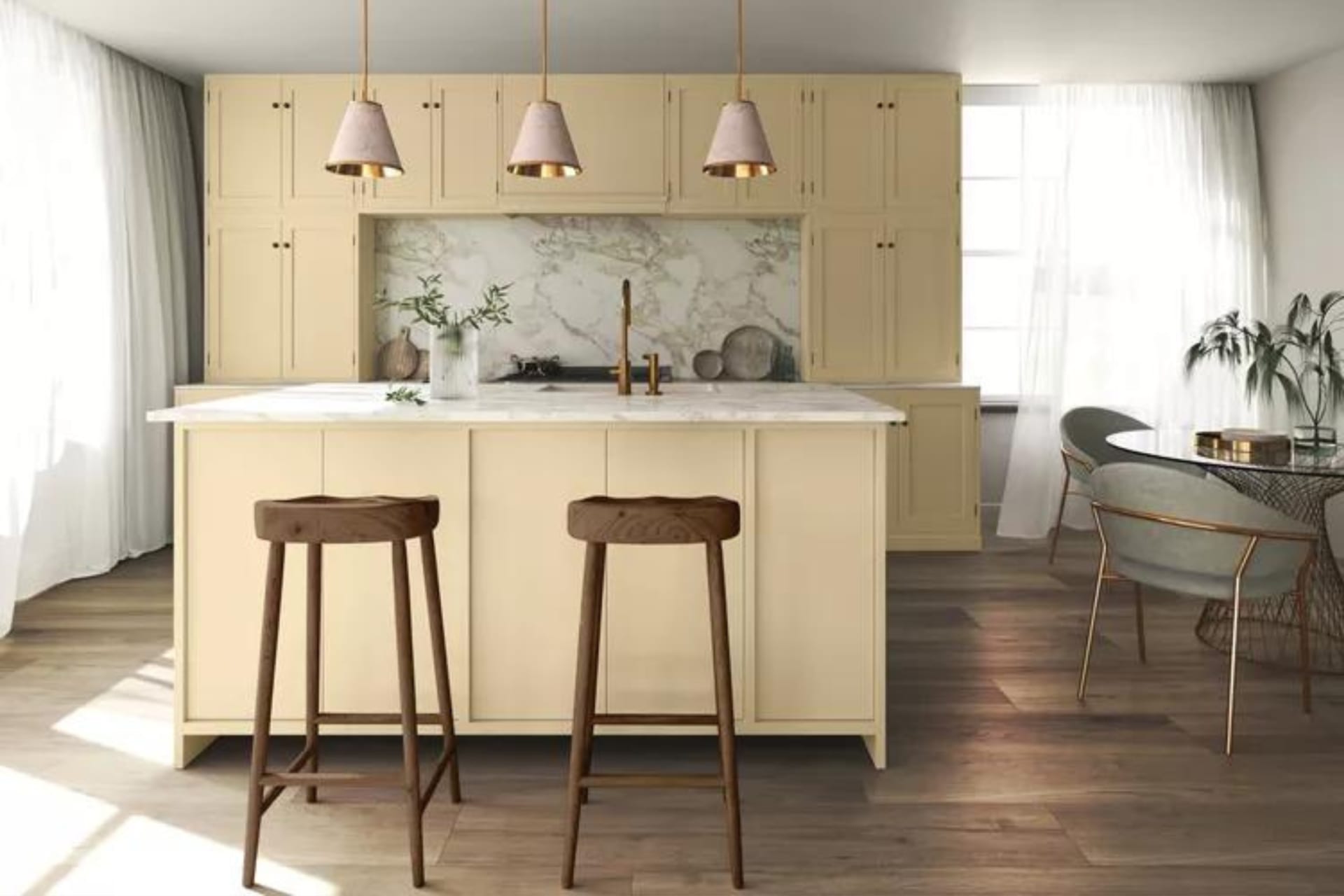 PHOTO: GLIDDEN
Limitless by Glidden
Glidden's color of the year is a warm, nearly-yellow neutral that can be paired with almost any color scheme. The color experts at Glidden call Limitless an "anything-but-yellow honey beige," and say it was designed to blend with both warm and cool tones—though they're embracing the warm-tone trend. "This modern neutral is as adaptable as its name implies and is taking the place of cool neutral tones that are so last year," said Ashley McCollum, color expert for Glidden, in a press release.
If you've been thinking about gray paint for your next DIY project or room refresh, consider Limitless instead. "Warm neutrals are here to stay, replacing cool tones like gray in 2024 and beyond," McCollum says. It's versatile enough to be used on large surfaces, such as kitchen cabinets and walls, but McCollum suggests using it for smaller areas like baseboards and ceilings as well. Since the hue is both light and warm, it can make spaces feel larger, brighter, and more welcoming.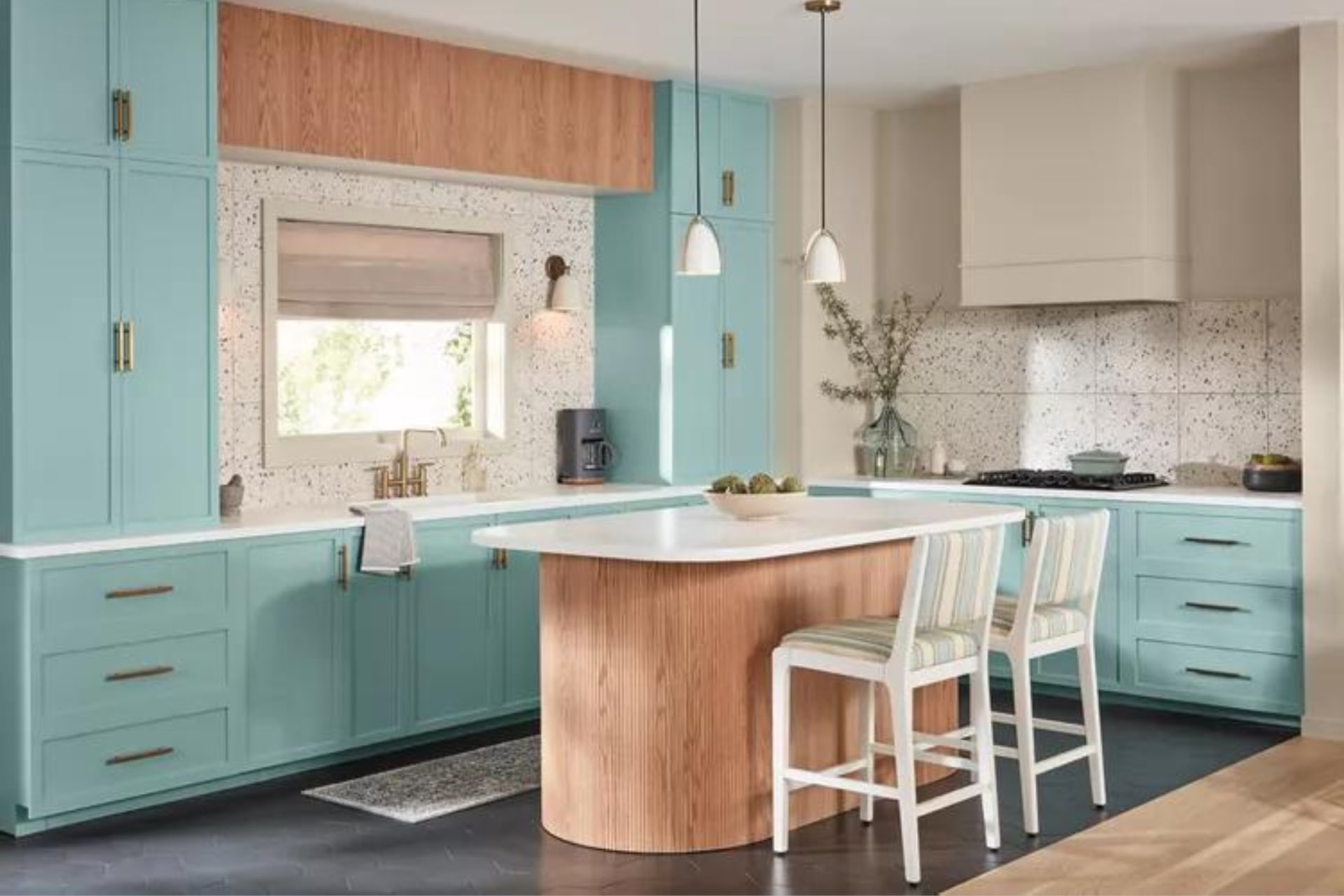 PHOTO: VALSPAR
Renew Blue by Valspar
Shades of blue proved popular in homes for the past few years, and the plucked-from-nature hue shows no signs of slowing down. Valspar's pick for 2024 color of the year is Renew Blue (8003-37D), a calming, meditative shade of soft sky blue.
"Renew Blue is an incredibly versatile and all-season shade that anyone can envision in their space. Inspired by fleeting elements like fog, mist, clouds, and glacier lakes, Renew Blue elevates the everyday mood, encourages self-expression, and evokes a feeling of balance and calm, with a twist of unique spontaneity," said Sue Kim, Valspar director of color marketing, in a press release.
Utilize Renew Blue in a bathroom with coastal accents, like a jute runner or driftwood accessories, to create a seaside escape. Or pair it with bright white in the kitchen for a crisp, clean look with the perfect pop of color.
PHOTO: COURTESY OF BEHR
Cracked Pepper by Behr
Behr's color of the year is Cracked Pepper (PPU18-1), a deep almost-black charcoal hue. The moody shade adds sophistication to any space. "We recognize the growing desire for using darker colors throughout spaces," said Jodi Allen, global chief marketing officer at Behr Paint Company, in a press release. "Adding a soft black like Cracked Pepper evokes a sense of confidence and individuality that we want all of our customers to feel after completing a project."
Cracked Pepper is neutral enough to adapt to any design style, from midcentury modern to rustic farmhouse. It also plays well with a variety of textures. Pair it with plush furniture and a soft shag rug for a cozy gathering space, or incorporate metallic accents and exposed architectural elements for an industrial aesthetic.
"It truly feels very organic," says Sarah Fishburne, The Home Depot's director of trend and design. "And it feels like it definitely blends in with the landscapes and the plants. I think it's like a really inky soil-y color, which is nice."
PHOTO: COURTESY OF HGTV HOME BY SHERWIN-WILLIAMS
Persimmon by HGTV Home by Sherwin-Williams
Cheery Persimmon (HGSW6339) is designed to bring lightness and energy to the gathering spaces of your home. It's bright without being overwhelming, thanks to neutral, pastel-like undertones that provide a warm, welcoming feel.
"Persimmon balances the energy of tangerine with grounded neutral undertones, making it perfect for spaces like living rooms and kitchens as it promotes positive relationships and conversation," said Ashley Banbury, Sherwin-Williams' color marketing manager, in a press release. "The beautiful shade helps rejuvenate a space while bringing unique design visions to life."
Along with Persimmon, the HGTV Home by Sherwin-Williams brand released a color collection featuring nine additional shades designed to be effortlessly mixed and matched. The collection includes happy citrus shades—like Persimmon and Friendly Yellow—along with soothing neutrals, such as Pearly White, Cyberspace, and Softer Tan.
"The Renewed Comfort Color Collection is restful and restorative with an expressive touch to showcase unique personal style—bringing a sense of comfort into the home with a new, refreshed outlook," Banbury says.
PHOTO: COURTESY OF DUTCH BOY PAINTS
Ironside by Dutch Boy
Embrace the moody paint color trend with Ironside (422-7DB) by Dutch Boy. The deep olive shade is a grounding yet statement-making neutral that's perfect for cozy lounge spaces—think bedrooms, dens, and living rooms. "We're taking a comforting approach; embracing restoration and nature, while bringing harmony into the home," said Dutch Boy's senior brand manager Michelle Bangs in a press release.
The nature-inspired hue is part of the brand's 2024 trend forecast, which is all about embracing relaxation, curating your individual style, and living in the moment. Suggested paint pairings include Sanded Grout, Whale's Tail, and Strawberry Shade.
SOURCE: Better Homes & Gardens